Bucharest nightlife
Where to go?
If you are for the first time in Bucharest, this city can offer you the right type of entertainment. Most of pubs and bars are close after midnight, but you fine here a lot of bars and clubs where you can spend all the night.
Bucharest nightlife introduction
| | |
| --- | --- |
| | During the summer you can walk n the streets in the old part of the city and admire Bucharest's architecture |
Bucharest by night tour
If you want to have a city tour by night, we are ready to offer you a private customized tour.
Tour itinerary:
The Bucharest University - The Romanian Commercial Bank - The National Theatre - Intercontinental Hotel - Lido Hotel - Ambasador Hotel - Romana Sq. - Victoria Sq. - Victoria palace - Aviatorilor Sq. - Charles de Gaulle Sq. - Kiseleff Av. - Arch of Triumph
Tour Services:
- transportation with private car and driver;
- English/ French speaking guide;
- Romanian traditional dinner.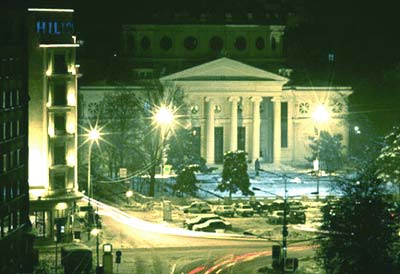 Tour details:
Bucharest is sometimes called "The Litle Paris of the east" and is rightly.
You are picked up at your hotel half an hour before the start of the tour.
We then drive to a traditional restaurant outside of Bucharest, where you will have the chance to spend an enjoyable evening. After an aperetif we serve you a 3-course menu with wine, accompanied by a varied folklore show!

Returning to Bucharest you have a marvellous view of the illuminated city from the Parliament Palace. In the way to The Parliament Palace, you can admire the old Bucharest with Kiseleff Bd., arch of Triumph, Calea Victoriei, The University, the Intercontinental Hotel.
The tour ends at the hotel.

Bucharest Clubs
Allure Club

Address : Calea Floreasca 110
Tel : 0744 50 11 55
Open daily :16:00-05:00




Armadillo Club

Str. P-ta Amzei 6
Tel: 0722 195 813
10:00-05:00
except:
Fri: 18:00-05:00
Sat: 20:00-05:00
Sun: Closed


Club A

Str. Blănari 14
Tel: 313 55 92
Fax: 315 47 86
10:00-05:00
except:
Fri: 10:00-06:00
Sat: 21:00-06:00
Sun: 21:00-05:00

Backstage

Str. Gabroveni 14
Tel: 312 39 43
18:00-05:00
except:
Mon: Closed

Escape

Str. Turturelelor 11
Tel: 323 14 50
Opened:
Fri: 22:00-05:00
Sat: 22:00-05:00

Fire Club

Str. Gabroveni 12
Tel: 0722 39 09 46
20:00-06:00

The Office

Str. Tache Ionescu 2
Tel: 0745 110 064
21:30-05:00
Opened:
Thu: 21:30-05:00
Fri: 21:30-05:00
Sat: 21:30-05:00
Sun: 22:00-02:00

Twice

Str. Sf. Vineri 4
Tel: 313 55 92
21:00-05:00




Oldies Club

Calea Mosilor 91
Tel: 0723 66 65 51
16:00-04:00


Bucharest Casinos
Bucharest Casino

Address:Bucharest, Bd. N. Balcescu nr.4
(at Hotel Inter-Continental)
Program: daily 20.00 - 06.00
Phone: 40-1-3102020, int.7592

Casino Palace

Address: Bucharest, Calea Victoriei nr.33
Program: non-stop
Phone: 40-1-2310220
Fax: 40-1-3111645

Casino Victoria

Address: Bucharest, Calea Victoriei nr.74
Program: daily 15.00 - 07.00
Phone: 40-1-6594913
Fax: 40-1-2106250

Casino Plaza

Address: Bucharest, Calea Victoriei nr.163, sect 1,
Program: daily 14.00 - 07.00
Phone: 40-1-3102480, 40-1-3102481
Fax: 40-1-6507648